No matter the industry, all creative professionals, and even the left-brained ones, need to look outside of our circles of influence for inspiration. By exploring new ideas, images, methodologies or concepts, we expand our minds and fuel our own creativity. This is how innovation happens, and how new products, business practices and ways of living help us grow as individuals and as a society.
Where do you look for creative inspiration? Here are some awesome locations around the Web where you can bask in the creativity of your fellow humans.
The 99 Percent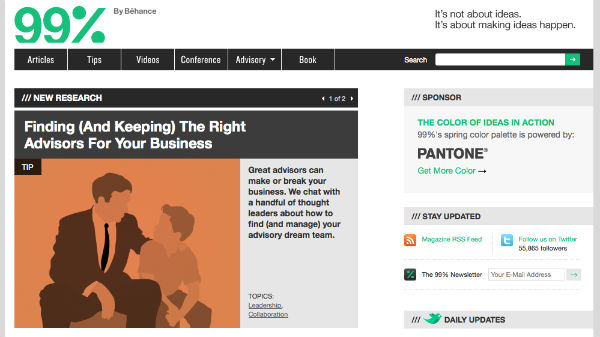 The "research arm and think tank" of Behance, a network for creative professionals, The 99 Percent is named for the famous Thomas Edison quote "genius is 1% inspiration and 99% perspiration." Consisting of a website, conference and book, The 99 Percent features instructional articles, videos and other resources (even playlists) that help creative types put good ideas into action.
One interesting recent feature described how mundane routines can produce creative magic. In it, the daily routines of some notable creatives (like filmmaker Ingmar Bergman and architect Le Corbusier) are described. The accounts are taken from Daily Routines, which profiles how "writers, artists and other interesting people organize their days."
Booooooom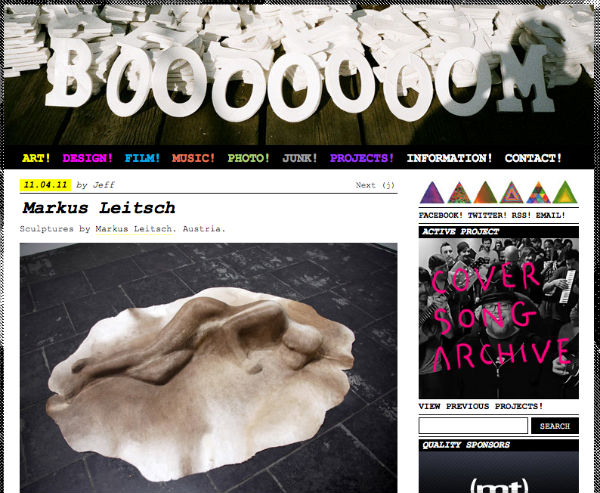 Booooooom is a Vancouver, BC-based "art and photo blog with a soft spot for hand-made work by unknown people," meaning you won't be seeing anything conventional here. Featuring works of art covering the spectrum between mesmerizing and bizarre, you'll find photography, sculpture, music, drawings, paintings and more creative works from around the world posted daily.
One favourite discovery from Booooooom actually came from its Twitter account, where the author tweeted about an internationally acclaimed painter named Cholla (who also happens to be a horse.)
Bajillion Hits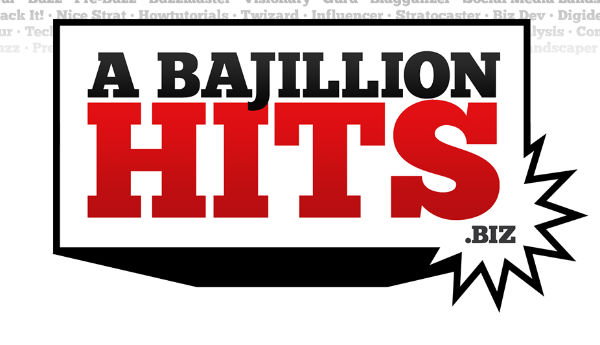 Alex Blagg, the man behind the brilliantly hilarious web marketing guru spoof Bajillion Hits describes himself in this role the best: "Social Media Strat Guru-Ninja-Genius. Bajillionaire. Webeneur. Techspert. Lord of All Social Media. Intergalactic Master of the Internet." This guy is basically the inside joke of all web marketing professionals in the world who have ever rolled their eyes at the growing mushroom cloud of people claiming to be social media experts. By poking fun at the tech-speak that runs rampant in web marketing circles, Blagg encourages us to make fun of ourselves, and perhaps find new ways of approaching web marketing that aren't so predictable.
Check out Blagg's post I'm a Tech Media Douche for his full (and hilarious) bio.
Illusion 360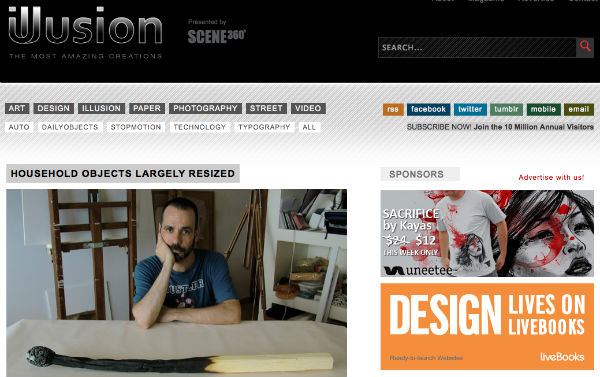 Illusion 360 is a partner project of the award-winning online film and arts magazine Scene 360, and features amazing art, design, technology and video from around the world. Features are chosen based on their uniqueness, skill, level of creativity and vision, and can include anything from living grass graffiti to human touchscreen interfaces.
One recent post includes the World's Smallest Post Service, which sends tiny letters to your loved ones.
Hello You Creatives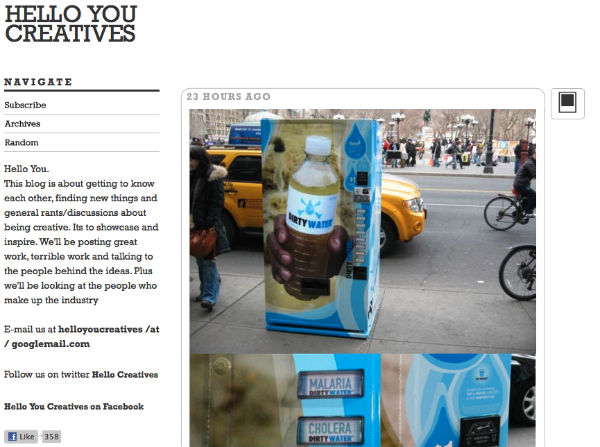 Hello You Creatives is a London-based blog run by a collective of creative people in design, illustration and "everything else," who work together to inspire, showcase and discuss creative works and creativity in general. Admittedly, they don't discriminate regarding the quality of works posted, giving exposure to both good and bad ones, and talking to the people behind them.
One recent post featured Unicef's Dirty Water campaign, which placed vending machines selling dirty water (including diseases like malaria and cholera) in major cities to raise awareness for the lack of access to clean drinking water in developing countries. The campaign, credited to the creatives at Casanova, has raised almost $1 million to support UNICEF's clean drinking water programs.
Laughing Squid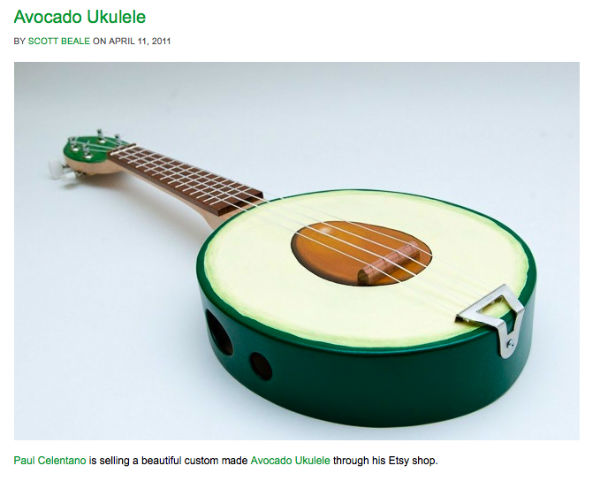 Laughing Squid describes itself as "an online resource for art, culture and technology" and is also an independent web hosting company. Blog posts feature a wide-reaching range of subject matter including anything from an avocado ukulele, to an interview with Steven Sasson, the inventor of the digital camera, to a recreation of Brooklyn made entirely out of LEGO.
Le Creative Sweatshop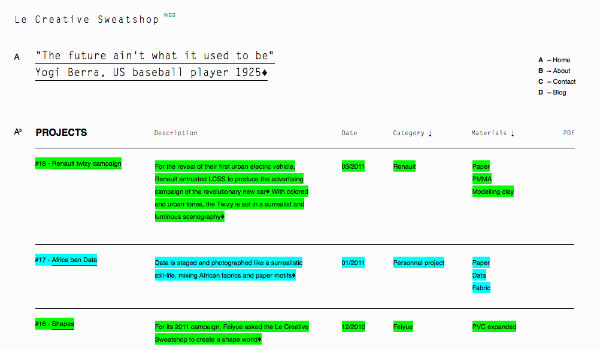 Le Creative Sweatshop is a Paris-based creative studio/agency combining the worlds of design, fashion, contemporary art and architecture, with a focus on hand-made works. The site offers the agency's portfolio of work, which is inspiring in itself.
One example is the agency's paper scenography installation for airline operator Transavia, which fashioned a suitcase out of colourful paper and wood as both a work of art and communication support.
Sharing Creativity
By sharing new ideas and ways of doing things, we not only inspire one another to do better work, but we push ourselves to innovate and make the world a more enjoyable place to coexist.
What are some of your favourite creativity boosters online? What is your daily routine? Why not share them with your fellow creative professionals and promote the cultural advancement of our species.