The Virtual Miss Friday website states: Professional online business services. While the site looks professional — and the services probably are, too — it fails to treat visitors with respect. Three pop-ups. Three!
And forcing your personal musical taste on everyone, Miss Friday, is not only presumptuous, but irritating to say the least. Sure, Sting's raspy voice might be timeless, but I'd rather you respect my right to choose the soundtrack to my web surfing. Today, for example, while I scour the web for offensive content, I'm listening to Computer Love by Zapp and Roger. Don't like that song? That's fine — I'm not forcing you to listen to it!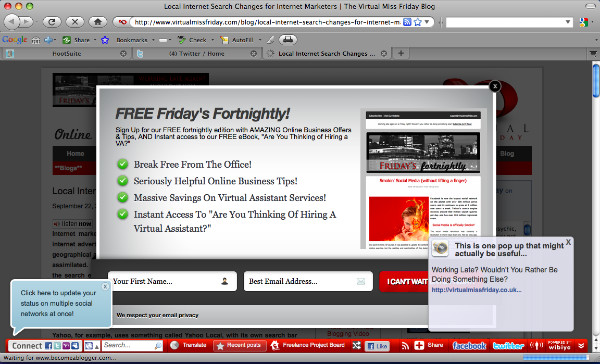 If I feel like being bombarded with pop-ups, I'll visit sleazy porn sites. If I'm in the mood for music, iTunes has me covered. As stated in Treat Online Guests With Respect, maybe it's time to start thinking of visitors as online guests. This new perspective might get companies to better recognize how their websites communicate with those they intend to serve.
When I'm assaulted with promotional pop-up windows, I feel like I'm at a used car dealership and there's a yappy salesman jumping all over me like a Chihuahua in heat.
Help Me Put an End to This Madness!
Welcome your guests to your website, make them feel comfortable, and give them what they really want — respect. Please don't invade their personal bubble. Make it easy for people to find the information they're looking for, so everybody wins.
Yours truly,
Opticon