Twitter gives us all a killer platform to network, research, promote and brand. We strive for and eventually build powerful, meaningful, like-minded communities. But sometimes it's helpful to shake things up and tap into different industries and views to broaden our minds. Following is a list of 27 intriguing people who can tweet new perspectives into your world.


Editorial Director at Marvel.com and pop culture lover.
@Agent_M

Pianist and self-professed freak.
@amandapalmer
Witty New York Times writer discusses food, politics and more.
@bittman
Author of Social Media Is Bullshit.
@BJMendelson

Former drug addict, now a Cape Town Christian drug counselor.
@Brent007

Currently unemployed, but "winning."
@charliesheen
New Yorker shares facts applicable to your daily life.
@DamnItsTrue

Women's lifestyle coach, based in France.
@elegantfemme

Gay rights advocate, Broadway babe.
@frenchiedavis

Looney punk rocker and graphic designer.
@galwithdimples

Japanese thinker.
@hokutokonishi
Part-time porn star and social media consultant for the adult industry.
@KellyShibari
"Strange writer" for Wired. Expect strange tweets.
@loresjoberg

Blackbelt. Sicilian-Irish. State government reporter.
@MSpicuzzaWSJ

Comic and semi-TV star circulates funny and geeky thoughts.
@nerdist

Atheist asexual comedian.
@Paulapoundstone

Australian clinical psychologist.
@PeterBrownPsy

Forbes writer/dweeb offers tales from China.
@raykwong

Homeless in London.
@rbrtpttnsn

Actress, vegetarian and Jesus follower.
@ricaperalejo

Animated Rackspace employee has fetish for technology.
@Scobleizer
Sydney shopping shrink.
@shoppologist
British actor who "gets" social media.
@stephenfry

Conservative, Vietnam vet and poet.
@TaoMannaDon

The man behind TED. Spreader of ideas.
@TEDchris

Charismatic Member of Parliament, India.
@TheVijayMallya

They drink and tweet, so you don't have to.
@TweetingTipsy
Who's Missing?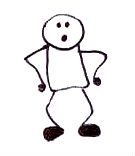 Know of any unique people who can shake things up in Tweetersville? Plug them in the list below!
Interested in slightly less interesting people? Follow @Webcopyplus and @Opticon_.