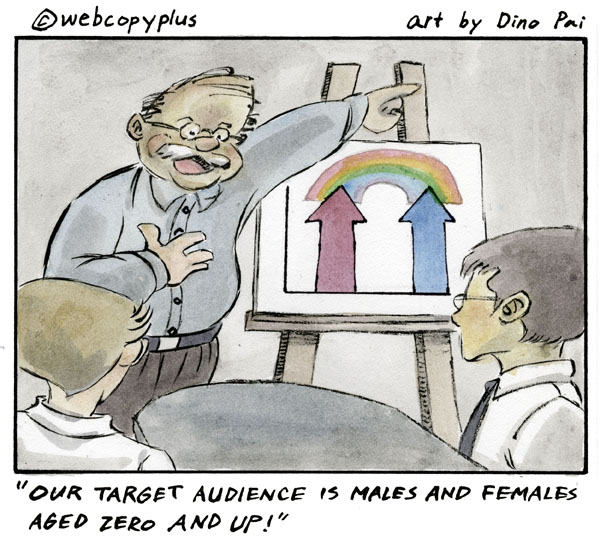 Businesses with limited budgets can combat large, deep-pocketed companies by targeting a niche market.
Fear not! Defining a target market doesn't mean you'll exclude people who don't fit your criteria — it means investing your resources and speaking to a specific market that's more likely to believe in your brand and buy from you.

This provides a cheaper, quicker and more effective path to reach, connect with and engage prospects. Consider your current customers:
Why do they buy from you?
Which ones bring in the most business?
What are some common characteristics and interests?
These are critical questions. Wouldn't you like to replicate and multiply your top customers? As Internationally-renowned Business Advisor Mark Wardell says, "The better you understand your ideal customer, the faster your business will grow."
Steps To Define Your Target Market
Business that aim at specific targets are far more likely to make direct hits. Here are some guidelines to help define and effectively target specific markets:
Step 1:
Determine Why Customers Would Want to Buy Your Product or Service
You need to capture what your products/services provide people or businesses. Outline each feature of your product or service, and list their benefits.
Example:
Feature:  
Responsive web design
Benefits:
Delivers positive user experience on all devices
Improves presence, leads and sales
Increases growth and profitability
Step 2:
Segment Your Target Market
To help determine who has a need for your product or service, and who's most likely to buy it, consider geographic, demographic, psychographic and behavioral criteria.
Geographic
Identify the geographic region where your market is located, including specific boundaries where you'll do business:
•    Local
•    Regional
•    National
•    International
Demographic
Who has a need for your product or service, and who's most likely to buy it? Here are factors to consider:
Consumer Market
•    Age
•    Gender
•    Marital status
•    Income level
•    Education level
•    Occupation
•    Social status
•    Religion
•    Ethnic background
Business Market
•    Company size
•    Annual revenue
•    Number of locations
•    Number of employees
•    Industry
•    Markets served
•    Years in business
Psychographic
To better understand your audience's buying motives and product usage, explore your audience's lifestyles, attitudes, beliefs, values and personalities. Identify the psychographic characteristics of your target market, which might include:
Consumer Market
•    Lifestyle
•    Family stage
•    Hobbies
•    Status seeking
•    Socially responsible
•    Brand preferences
•    Price sensitivity
•    Spontaneity
•    Influenced by peers
•    Relationship importance
Business Market
•    Business style
•    Industry leader
•    Business stage
•    Early adopter/follower
•    Employee relations
•    Conservative
•    Socially responsible
•    Workforce type
•    Resistance to change
•    Loyalty
Behavioral

It's important to understand the buying habits and patterns of your customers, surrounding elements like purchase frequency, costs and seasonality. Here are some factors that help gauge behaviors:
Consumer Market
•    Purchase history
•    Where they shop
•    Type of store preferences
•    Association memberships
•    Internet usage
•    Impulsiveness
Business Market
•    Website visits
•    Responses to marketing
•    Purchasing methods
•    Association memberships
•    Internet usage
•    Social media groups
Here's a quick exercise to help identify and rank what's important to your customers.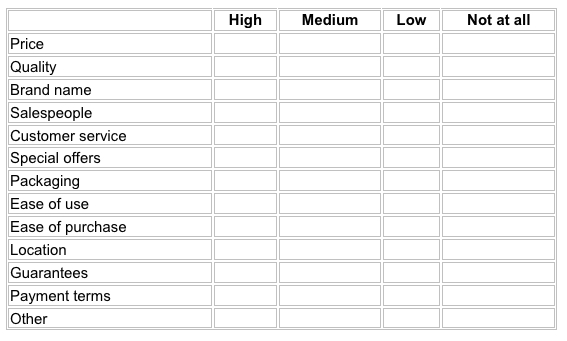 Step 3:
Choose Your Segment(s)
After identifying and defining the possible audience segments within your target market, it's time to choose a segment or multiple segments that promise to be feasible and profitable.
With this newfound knowledge and focus, you'll have a better understanding of your ideal customer:
•    What turns them on
•    What turns them off
•    Which words catch their attention
•    What keeps their attention
•    What makes them tune things out
Again, focusing on a niche allows you to compete effectively against larger competitors. And by studying who the competition is targeting, you may identify neglected groups.
Also, mind your marketing budget. It might not be realistic to pursue certain groups or regions if you don't have adequate resources and funds. You can evolve by prioritizing segments, and going after new ones once you've successfully penetrated initial markets.
Brand and Market!
Now you can be better equipped to refine your branding and marketing, and get the right messages to the right people — who need, want and will invest in what you have to offer.
The alternative is to go blindly, without strategy. As Peter Irving, President of Concerto Marketing and market research expert states: "Creativity without understanding and direction, is art."
Unlike art, Irving explained, marketing cannot be appreciated for its own sake — it is appreciated for what it delivers. So take the time to define and understand your ideal audience. It'll arm you to choose wisely where you spend your time, resources and money, and allow you to better engage your targets.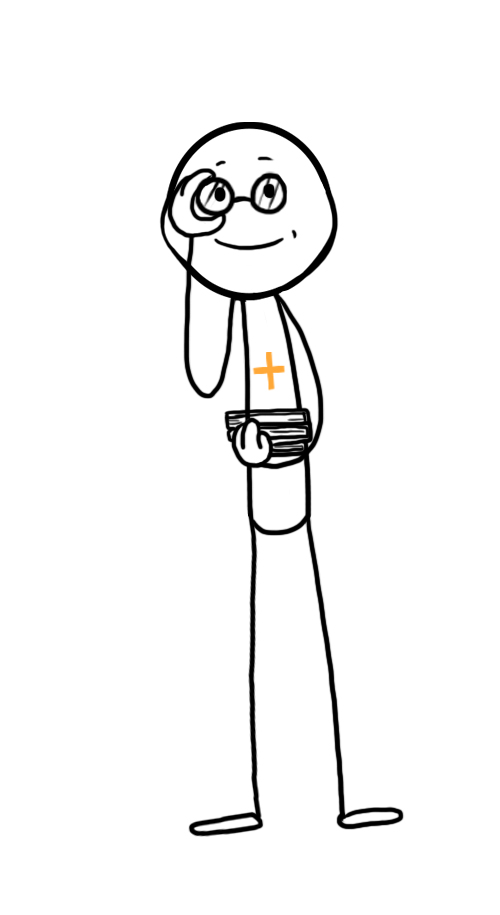 To find out how our web content writers can help you, contact us.