Even though keywords in your tweets are now showing up in Google's real-time search results, people are still skeptical about the value of using Twitter.  Webcopyplus is here to tell you that in addition to increasing your social media ROI, Twitter can help make you a better person.  In fact, we're going to show you how you can use Twitter to become a charismatic, hilarious, philanthropic superstar — without every having to leave the comfort of your glowing screen.
Socially Awkward? No Problem!
By following random fact generating Twitter accounts, you can arm yourself with a plethora of tools for breaking awkward silences.  Accounts like @OMGFacts and @Foodimentary, for example, offer daily tidbits of fascinating information to help you become an expert awkward silence buster.  Just make sure you've got the best ones saved as favourites in your mobile Twitter app so you don't have to write them on your hand.
Some riveting conversation starters:
Be The Life of The Party
A wide selection well-known and lesser-know (but equally hilarious) comedians use Twitter.  Why not follow some of them to get daily jokes to try out on your friends at parties?  Just don't forget to give credit where it's due (or not, if you're okay with being a joke stealer).
Keep Up With Current Events
News organizations all over the world are tweeting breaking news faster than they can print it.  So you can really be the first to know what's going on in the world.  Depending on your political views and what you consider a credible news source, they're tweeting the news you need to know as it happens.
Find Out Famous People Are Just Like You
With more and more movie stars and well-known public figures turning to Twitter to connect with fans, it's becoming alarmingly apparent that some of them don't have their publicity teams pumping out tweets – they're doing it themselves.  The best part about this is that they make spelling mistakes and say stupid stuff all the time just like you and me.  Reading their tweets can bring you a little bit of comfort that these people we put on pedestals are actually just regular folks too.
Donate To Charity and Promote Worthy Causes
Add another dimension to your social media personal development by donating to charities and promoting worthy causes via Twitter.  By following the Twitter accounts of non-profit organizations, you can learn about how you can help make the world a better place, and teach a little something to your friends too.  Best of all, social media makes philanthropy easier than ever.  You don't have to build a house in a third-world country to make a difference — it can be as simple as a click of your mouse.
@nonprofitorgs (a great resource for finding non-profits on Twitter)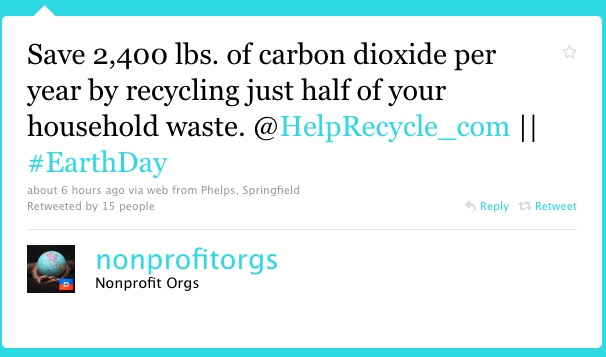 Find the Twitter Self-Help Plan that's Best For You
If the above suggestions aren't striking your interest, try searching a Twitter user directory like wefollow to personalize your feed according to your taste.  You'll find endless lists of Twitter users separated into the above categories and more.
Got thoughts or stories about Twitter? Post a comment!