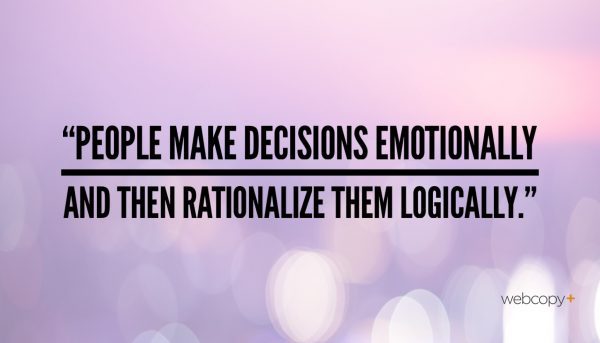 Whether you're marketing electronic gadgets B2C, or professional services B2B, you need to engage people emotionally to win their business. Why? As humans, we make decisions emotionally and rationalize them logically. As a result, a highly effective way to capture an individual's heart is to focus on benefits.
Common Content Writing Mistake
When it comes to content writing — and marketing in general — business owners and inexperienced copywriters alike tend to push features.
What's the difference?
Feature: A descriptive fact — what the product or service is or has.
Benefit: What the product does.
In other words, a benefit is what the customer gains as a result of the feature. For example, security binoculars might have oversized lenses. Good to note. But what really matters is that the oversized lenses provide low-light performance for bright images from dusk to dawn.
Based on more than a decade of web content studies and strategic work for companies ranging 1-800-GOT-JUNK to luxury lifestyle brands, I can tell you feature-driven content is largely company centric, while benefit-driven content is characteristically visitor centric.
Visitor-centric copy commonly outpulls company-centric copy because it caters to the audiences' needs and wants. It makes sense when you consider our primitive past: we're hardwired for survival, and benefit-driven content helps demonstrate how a product or service helps us survive, or even thrive.
So, to boost engagements and conversions with your content, answer your prospects' critical question: "What's in it for me?" Do that well, and you'll be able to create strategic content that increases your sales and revenues.
Web Content Resources
To learn more about writing strategic web content, check out these resources:
Why You Should Get Excited About Emotional Branding — A Smashing Magazine article that talks about tapping into consumers' deepest subconscious emotions to win the marketplace.
Web Content Tactics that Work — An interview with Red Ape Media, where I discuss content writing tactics, including how to define and convey benefits.
6 Fundamentals that Maximize Your Content Strategy — A free eBook that describes, step by step, how to develop content that converts.