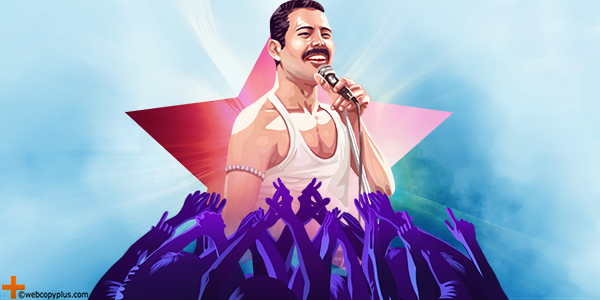 Inspired by Bohemian Rhapsody, I reflected on how and why Freddie Mercury became a living legend, and continues to be celebrated as one of music's greatest performers of all time. I believe it goes beyond his inimitable voice and songwriting abilities. Mercury had vision, and in a world of conformity, he boldly did things his way — he was his own creation. Whether you're a creative, entrepreneur, or just want to live a fuller life, we can all take a page from the icon.
The Beginning
Queen's front man was born Farrokh Bulsara in Tanzania, and raised in India, before arriving in England as a 17-year-old with his family. He had creative flair from the get-go, starting a band when he was just 12 years-old, and later earning an Art and Graphic Design diploma.
"I Won't Be a Rock Star…"
It is said, to fully succeed, you must live your life on your own terms. Mercury certainly did, deciding what success meant to him, and then going after his goals with everything he had. His words: "I won't be a rock star. I will be a legend."
Experts say the most important thing we can do to become our true self is to pursue the goals that are right for us. If we go after the wrong goals — that don't reflect who we really are, what we care about, and what we're good at — we will never feel happy or fulfilled.
Words of Wisdom
The globally-celebrated star was as complex and eccentric as his songs. Here are thought-provoking insights into the mind of the Killer Queen:
On being unique…
"I think I'm totally original. I'm sure there are many people who see themselves in me, but that's to them. I'm me, basically, and that's how I like to be." [1975]
On taking chances (with Bohemian Rhapsody)…
"There was a time when the others wanted to chop it around a bit, but I refused. If it was going to be released, it would be in its entirety. We knew it was very risky, but we had so much confidence in that song – I did anyway. I felt, underneath it all, that if it was successful it would earn a lot of respect." [1976]
On investing in yourself…
"We've always put our neck on the line. We're fussy and finicky and have very high standards. If a song can't be done properly, we'd rather it isn't done at all. … We're a very expensive group; we break a lot of rules. It's unheard of to combine opera with a rock theme, my dear. And, we have no such things as a budget anymore. Our manager freaks when we show him the bill. We're lavish to the bone, but all our money goes back into the product. We've gone overboard on every Queen album." [1977]
On evolving…
"I want to put my music across, as far as entertaining is concerned, with everything: costumes and lights. It's a progression with the music and I felt, for want of better words, if our music was getting mature and sophisticated so should our stage act. Our songs needed a different kind of interpretation, and that's what we're trying to do." [1977]
On pushing creative boundaries…
"I don't want to keep playing the same formula over and over again, otherwise you just go insane. I don't want to become stale. I want to be creative." [1977]
Unleash Your True Self
Mercury reportedly told a friend: "If you really want something and work for it, it will happen." If you're keen to take a page from his bigger-than-life approach, ask yourself these questions:
Do you genuinely enjoy pursuing your goals or plans?
Do you identify with what you are doing? Do you find it interesting? Meaningful?
Is it challenging in a way you appreciate?
If you'd like to become a champion in your world, check out The Strangest Secret, a 31-minute talk from the 1950s that changes lives. If you'd like help defining and aligning your business' vision, mission and purpose, check out this eBook on strategic content.