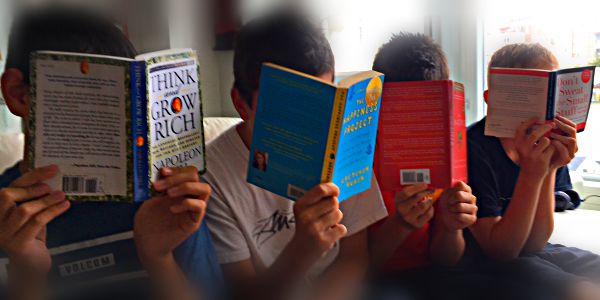 Pay your children to read? I did it on a whim one evening and felt somewhat sheepish. Reading should be a natural pastime that you desire and enjoy, right? But then I was told something that made me realize it's not only okay — it might be brilliant. Here's why and how you should consider launching your own 'book club for young entrepreneurs' at home.
Earlier this year, I was invited to attend a mentorship program. It required some assignments and reading, and I was given the intro and first chapter of John Maxwell's 15 Invaluable Laws of Growth. A few days later, I was chatting with my 13-year-old son at bedtime and was peering at his graphics novel on his desk, which he was slowly working his way through as part of his daily mandatory reading.
Wanting him to dig into something with more substance, I grabbed the 'Laws of Growth' printout and handed it to him. "I'll pay you $20 if you read this," I stated. "Really?" he responded, as if I was pulling his leg (which I occasionally do). "Yes," I responded matter-of-factly. And so he did, and he got his 20 bucks.
At the mentorship meeting the next evening, The 15 Invaluable Laws of Growth was brought up, and I embarrassedly confessed to a small group that I paid my son to read it. "That's good!" responded one of the individuals. She explained John Maxwell's dad used to pay him read business books, and John paid his kids to read business books — and they've all turned out to be wealthy and successful.
"Do you pay your kids to do chores?" she asked. I nodded. "Well, you pay your children to do dishes and take out trash, but are you aspiring for them to become dishwashers or garbage collectors?" she asked. "My dad gave me Think Rich, Grow Rich when I was young, but I didn't read it. I wish he had paid me to read it when I was 16."
That conversation altered my way of thinking. I switched from being embarrassed to seeing a new world of opportunities to open and feed my kids' minds and set them up for success in different facets of life. These are valuable insights and wisdom they might not ever have access to in school, from peers, or at home.
The Book Club
I assembled an assortment of classic books, ranging from entrepreneurship to relationships, and created a two-page essay form in Word (feel free to use this Book Club form I created).
It includes:
The book title
Author
Date
What was the book about?
What did you learn from the book?
What do you feel is the most meaningful quote or message from the book?
I then delegated a specific book based on what topics I felt would benefit and interest them. They get $20 – $50 per book, depending on the length and complexity. To cash in, they need to finish the book, fill in the form and sign it.
My 15-year-old daughter recently finished The Five Love Languages, which is a clever book about nurturing relationships, and my son is making his way through The Go-Giver, an easy-to-digest fable that outlines laws of success. When my daughter handed in her essay, we had a casual chat about what the book taught her and how those lessons can be applied to her relationships.
Best Entrepreneur Books
You can search for top business books
, or check out these recommended entrepreneur books for teens. If your kids or grandchildren are too young, you can always read to them.
The Go-Giver (Bob Burg and John David Mann)
Think and Grow Rich (Napoleon Hill)
How to Win Friends & Influence People (Dale Carnegie)
The 15 Invaluable Laws of Growth (John Maxwell)
The 7 Habits of Highly Effective People (Stephen R. Covey)
Good to Great (Jim Collins)
Influence (Robert B. Cialdini)
The Wealthy Barber (David Clinton)
Tribes (Seth Godin)
Other great reads for children:
Don't Sweat the Small Stuff (Richard Carlson)
The Five Love Languages (Gary Chapman)
The Happiness Project (Gretchen Rubin)
Try it at home and share your experience! If you know of any exceptional books that should be listed, please add them to the comments below.