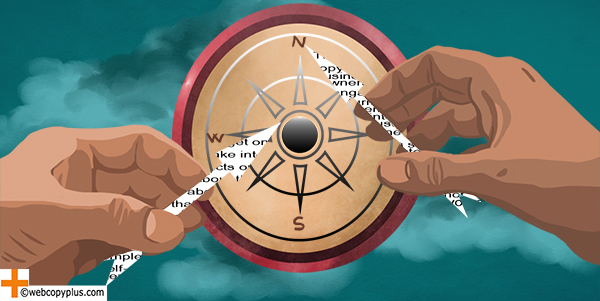 Think website User Experience (UX) and the mind jumps immediately to design and structure, not necessarily to content strategy or writing. Yet, effective writing is increasingly important to good UX. So, what is UX writing?
The Hook
We already know that UX is important to customer experience and business objectives.
UX investment provides significant ROI — and customer experience could be the key brand differentiator by 2020, as mentioned in a previous post on the difference between UX and UI.
A recent Content Marketing Institute report finds that 85% of businesses polled attribute their increase in overall content marketing success to higher quality, more efficient content creation (including copywriting, video, graphics and image assets); and 72% to content strategy development.
Put all that together, and it makes intuitive sense that content writing is a key component of effective UX. But wouldn't that still mean UX writing is just part of website content writing?
In broader strokes, yes: A good web content writer is focused on the user experience. UX writing has always been part of web content writing, but has become a writing discipline of its own, helping to develop and express more complex, integrated, interactive, or completely new functionality between platforms and devices — just as technical writing came into its own after the tech explosion in the 20th century, providing more precise, clear and accurate technical communications for a variety of user profiles.
UX writers provide users with words that create a cohesive, consistent and useful experience — helping them interface with design elements intuitively, and making functions easy to understand and follow.
The Bottom Line
Webcopy+ has been optimizing web content for more than a decade. We've seen UX writing evolve from being just a portion of the toolkit of a web content writer, into a separate job category that is constantly being redefined as UX requirements deepen — and along with that, our understanding of where and how copy can best be used.
UX writers work with web designers and UX/UI designers to clearly and intuitively present the interactive and functional parts of a website, service or product, as well as express the brand, key messages and other information.
Three things we think that effective UX writing should do:
Provide copy for user-facing touchpoints that doesn't just report a status, describe a function, or propose next steps, but also addresses the user's anticipated psychological or emotional state.
Define functions, and their role, within a larger content structure connecting users to the platform or device — so users can see the "big picture" and decide what they need or where to go.
Draw attention to the usefulness of the product or service — the effect should be usability that feels instinctive and "second nature."
Three things we think that effective UX writing should be:
1. A no-brainer: UX writing needs to be short, simple and direct so that it is understood and acted on quickly, in a way that feels intuitive — like how many people start reading something or form an opinion before realizing they're doing it.
2. Need to know: Good UX writing (backed by great UX/UI design) helps ensure a function or interaction quickly becomes habit. Use the concepts of progressive reduction (some information can be simplified over time), and progressive disclosure (more complex information can be revealed over time) as guiding principles. Advanced or frequent users will learn and remember basic functions, and won't normally need as many prompts, help text or additional labels. New users may need a few basic interactions and site visits, before more complex or advanced functionality and information is introduced.
3. Forgettable: UX writing helps build a good user experience, which is the whole point. It's fine, even preferred, if users don't remember any single word or content item as they complete a task — if they remember the experience as clear, useful and enjoyable, you've done your job.
How do you know if your UX writing is working? Users understand a function, an interface and what they need to do — or they don't.
The Crystal Ball
In the reality of UX design today, technology is increasingly integrated into daily life — think Internet of Things (IoT). There's more overlap between graphical user interfaces (GUI) and voice user interfaces (VUI). And content marketing isn't going away anytime soon.
A UX Magazine article on current UX trends cites a shift toward more content-forward design, with a "content first" development focus — the dream of every web content writer and strategist.
The fact that 79% of people scan-read, rather than read every single word, doesn't reduce the importance of copy; there's a difference between "content focused" and "content heavy."
A content-focused approach emphasizes impact and organization, over volume; quality, over quantity. Follow the data, then choose your words, where you put them, and how you show them, very carefully.
What's in the immediate future for UX writing?
For impactful copy, we need great interactive storytellers — people who are intuitively good at anticipating what words are needed and when for both narrative design (how people read and understand what they read) and conversational design (how people speak and understand what is said).
The UX-focused web content writer connects the technical with the practical, the interface to the information it contains, and to the brand behind it. And ultimately, users don't just return to a site for its great button copy; they return for the awesome content. Contact us to get both.