Design matters, like never before, states David Berman, author of do good design, the internationally renowned book that challenges designers to disarm weapons of mass deception to help make the world a better place. We asked this influential thought leader with a quarter century of graphic, interface and accessibility experience about the Internet, our moral compass and the future.
1. How has the Internet helped society?
The Internet has given us the opportunity, for the first time in perhaps 7,000 generations of humanity, to include everyone, to collaborate with everyone…to do good in ways and at a scale that is unprecedented.
2. How has the Internet harmed society?
Of course the Internet has also amplified our ability to do bad things faster, cheaper and easier, which of course causes harm to our society. And in a globalized world where there is now only one civilization, we don't have the option to mess up.
3. Are marketers to blame?
Greed is to blame. Marketers are a strong example of a community that has relished in the ability to leverage to the power of the Internet without full consideration to the potential for the harm caused by tricking people into working hard to consume far more than they need.
4. What makes up the creative industry's moral compass?
A mix of professional ethics and personal ethics.
5. How can creative professionals make a difference?
Creative professionals can make the difference by first recognizing the huge power they wield, like never before, and then to mix their professionalism and creativity to tackle the world's largest challenges…by choosing one issue that is close to their heart, and committing to spend at least four hours a week designing the solution. With over 2 million designers on the planet today, there isn't a problem our civilization has that can't be solved with 8 millions hours a week of loving creative design thinking.
6. What thoroughly inspires you?
Ants. Curlers. Big cats. The ability for humans to learn, to adapt, to create, to self-organize.
David Berman, FGDC, RGD helps solve business problems through strategy, design, ethics and creative branding and communications. With more than 25 years of experience in design and strategic communications, he's an internationally-acclaimed speaker, facilitator, communications strategist, graphic designer, typographer and ethics chair. His thought-provoking speaking and professional development engagements have been brought to more than 40 countries in recent years.
David's highly acclaimed book do good design (Pearson, 2009) is available in English, Chinese, Indonesian, Malay, Russian and Korean.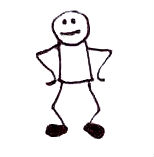 Have you read the book? Do you think designers can and should make a difference?