Comic Sans is one of the most popular fonts on earth, lurking amongst birthday cards, comic books, restaurant menus, signs and throughout the Web. Designed by Vincent Connare and released by Microsoft in 1994, the sans-serif casual script typeface is also the most despised font in the design world. It's forged a phenomenon that has garnered attention from Design Week magazine to the Wall St Journal. So we bluntly asked creative types: Why do designers hate Comic Sans?

Grant Moshonas
Graphic Designer, CREW
"It's nothing personal. Designers actually enjoy hating Comic Sans. Not for its voluptuous curvy appearance, but more for its deep-rooted history of misuse in almost every industry.
"Since its creation in 1995, this whimsical font has been used in numerous serious and important print pieces. This irony is the foundation for which this particular love/hate facet of design culture is built from. Every typeface has its place in the world, and perhaps TPS reports and government documents shouldn't be one of them. We love irony and since there aren't many other typefaces out there with these traits, we will just have to continue to hate and disgust over the sight of Comic Sans. Thank you, Microsoft."
Follow @CREW_MP
Amy Ulivieri
Marketing Manager, Idea Marketing Group
"When a designer hears the two words 'Comic Sans' it's most often met with a deep sigh or an eye roll, or likely, both. How does a universal feeling of inner disgust come from something as simple as a font name? It's simple.
"Comic Sans will never look serious or authoritative, thoughtful or mature. The letters are designed in such way that it can only look childish and foolish, created without much thought and eternally immature. There is no finesse, no direction. The letters are like lumpy pieces of clay left unfinished by the sculptor. Within an industry that appreciates the smallest nuances in lines and typography detail, this font leaves everything to be desired."
Follow @ideamktg

James Archer
Chief Creative Officer, Crowd Favorite
"The underlying problem with Comic Sans isn't due to anything fundamentally wrong with the typeface itself, but rather that it's an easy choice for those with little design experience who are looking for 'something different' for their sign, bulletin, poster, etc. It's a default font found on most computers, and its simple lines and curves give it a friendly demeanor compared to most traditional typefaces.
"The discipline of design is about understanding the subtleties of perception, and the little details that influence it. Designers, therefore, naturally take notice when opportunities for specificity and appropriateness are missed in favor of broad, generic solutions.
"Tens of thousands of fonts in every imaginable personality are readily available online for free, and the frequency with which they're overlooked seems a shame. It's like eating the same frozen dinner every night, wearing the same white athletic socks to every social function, or listening to the same classic rock greatest hits album instead of exploring what else is out there. It carries with it the implication that those choices don't matter, when designers more than most can see the ways in which it really does matter."
Follow @jamesarcher

Rhandee Leaño
Design Director, Busse Design USA
"I don't necessarily hate Comic Sans. It surely wouldn't be my first choice as a casual or fun font given the vast font libraries available today. Comic Sans is rooted in a history where early word processing had a limited number of fonts at the ready, and Comic Sans was the go-to choice for the 'less serious font'.
"However, as a graphic designer, I was trained to communicate with typography: the ability to communicate a sentiment, tone, or look simply based on the selection of a typeface and its style (bold, light, italic, etc.) is so important that design school fortified me with its history and an in-depth understanding of its anatomy from ascenders, descenders, down to their ligatures. With this background, a font is more to a designer than just a selection from a dropdown in a word processing application; it's a rich tool that must be appreciated and used wisely.
"To borrow a bit from Stan Lee, 'With this great typographical power comes great typographical responsibility'. Yes, typeface selection feels this important. The reason that designers seem to hate Comic Sans is that they have seen too many bad examples out there using this font. (I hope these bad examples come from non-designers.) Comic Sans was designed to be a casual, fun, handwritten and whimsical font, so when it's applied for a completely different emotional tone and purpose, designers will groan in agony.
"If you're not a designer, you might be thinking, 'What's the big deal? It's a perfectly legible font'.  But imagine if you were putting together a flyer for a funeral service, how appropriate would it be to use this font? I don't expect the average person to intuit the nuance of fonts, and I respect that there is a history to having used Comic Sans, however, when selecting a font, we should all ask ourselves: Is this the feeling I want to convey for this message?  Usually, when it comes to Comic Sans, the answer is no."
Follow @bussedesign

Victoria Lennon
Marketing Director, MintTwist
"Comic Sans is hated because it doesn't look professional. It's reminiscent of the type of handwriting you would see at primary school and is often described as looking like 'fun' — not ideal for corporate brochures.
"However, Comic Sans is often highlighted as a font easy to read for those with dyslexia. This may be one reason why it endures. It would be great to see more sophisticated fonts developed for dyslexia."
Follow @MintTwist

Brandon C. Elliot
Creative Director, brandOnemedia
"I think the name of the font typeface decided its fate — Comic. It's 'Comic'al now when you see it used today as it has come to represent the late 90s of Microsoft dominance but also lack of professionalism and design intention. Not only is the typeface's style visually lackluster, it's also bi-polar. It's trying to be casual yet it was used to be trendy and professional. Comic Sans should be just that — 'sans', without anymore use!"
Follow @brandonelliot

Todd Mumford
Founder & CEO, Riverbed Marketing
"Designers hate Comic Sans because it carries a juvenile look and feel. This makes it incredibly difficult to use effectively in media that targets adults as the primary persona. Also, it has been overused (abused) in the past, and lost its uniqueness in the process, so designers are always looking for more unique fonts to meet their taste."
Follow @RiverbedMktg

Kevin McLeod
Founder & CEO, Yardstick Services Inc.
"Somewhere along the line someone decided it was a juvenile font and had a large enough sphere of influence to trigger a social revulsion. But, it might also be the name itself that primed (physiologically) designers. I wonder what would happen if it had been named 'Marketing Sans'… that being said, it does resemble a message my niece wrote me in crayon last week."
Follow @yardstickceo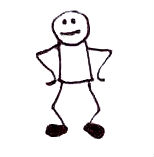 What are your thoughts on Comic Sans? Typographic nightmare or colossal misuse?