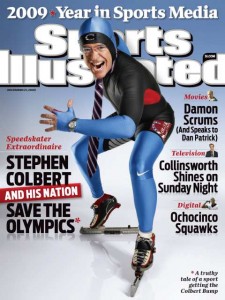 Harrison Hot Springs has invited Colbert Nation's Stephen Colbert to embark on an official search for the Sasquatch during his upcoming trip to British Columbia for the Vancouver 2010 Olympic Winter Games.
Harrison Hot Springs, a 90-minute drive from the Vancouver International Airport and the Richmond Olympic Oval, has been the focal point of the mysterious ape-like creature, also called Bigfoot, for more than a century.
If Colbert accepts the invitation, he will be provided transportation, accommodations and special training (which could include spa treatment) to help him prepare both physically and mentally.
This Sasquatch search would be timely and fitting, given:
One of the 2010 Olympic Games mascots is a Sasquatch named Quatchi.
Colbert has a much publicized fear of bears, and the Sasquatch is considered a predator of the bear, making them perfect allies.
The search would be led by Sasquatch Investigator Bill Miller, who began researching the creature in the early 1990s. Colbert and the Sasquatch Investigator would "analyze any evidence on numerous factors, including: track depth; soil conditions; toe movement; pad flattening; mid-tarsal breaks; weight distribution; stride; and track alignment."
In late 2009, after calling Canadians "syrup-sucking Canadian ice holes" for reportedly denying the American speed skating team ice time, Colbert accepted Richmond, B.C.'s invitation to become the official Richmond Olympic Oval ombudsman during the 2010 Winter Games.
"Harrison Hot Springs hopes Mr. Colbert will accept our invite to locate and make contact with the Sasquatch, which could be a historic event for Canadians and Americans alike," said Stephanie Key, Executive Director, Tourism Harrison.
Tourism Harrison is in direct contact with Colbert's team, and will make an announcement as soon as possible. You can check for updates on the Tourism Harrison blog, or check back here on what could be a fun event to track.
See original release.